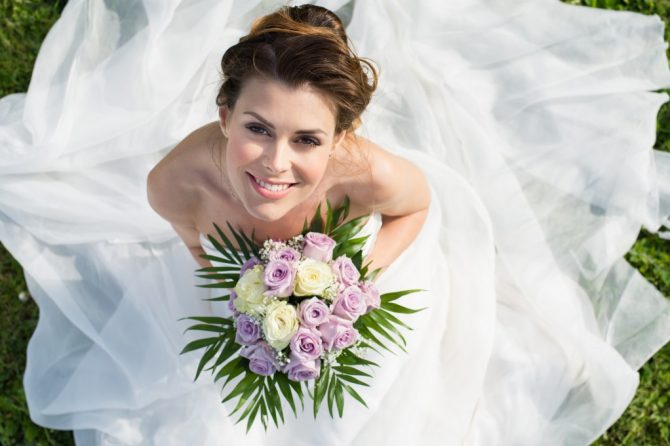 Summer is just around the corner, which means the wedding season is almost upon us! If you're getting married this year, then you might be worried about the appearance of your teeth. After all, no-one wants yellow or crooked teeth on their wedding day. But have no fear: in this post, we'll explain exactly what you need to do to a great smile for the aisle.
Six months before the wedding
At least six months before the wedding, both the bride-to-be and groom-to-be should visit the dentist for a check-up. This will also give the dentist an opportunity to see what work should be done, such as fillings, whitening, or even braces. Yes, braces are an option, even if your wedding is only four months away! That's because braces can achieve results in as little as three to four months. So, ask your dentist if short-term braces might be suitable for you.
Four months before the wedding
With four months to go, you're probably super-busy now. Between finding the dress, organising the venue, booking the band and writing the guest list, you'll be lucky if you have a spare minute in the day! But even if you're short of time, don't let your dental hygiene suffer: make time to brush twice a day and floss, no matter how busy you are. Your teeth will thank you for it later!
It's also important to deal with any stress you might be feeling. Some stress is normal, but prolonged stress is bad for your health, and this includes your dental health. For example, stress can lead to increased risk of infections and gingivitis. Another effect of stress is teeth grinding. You might need to start wearing a night guard if you've started grinding your teeth at night.
On a 'lighter' note, four months before the wedding is also a good time to get your teeth whitened. You can also get your teeth whitened later, but don't leave it to the last minute, since whitening treatment takes two to four weeks to be effective.
One month before the wedding
With just one month to go before the big day, your teeth might be the last thing on your mind. But don't neglect your gnashers now; a few final treatments are all your need to ensure a dazzling smile. This should include a scale and polish to remove any stains, as well as a top-up of whitening treatment to ensure your teeth are perfectly white. And if you have braces, then now is the time to get them removed.
Hopefully you can see that with a little planning, it's not too difficult to have your dream smile for your wedding day. Make an appointment with us so we can discuss your dental needs. Also, we know that money can become tight around a wedding, and that's why we have a range of affordable options for everyone, no matter what the budget.
Leave a reply