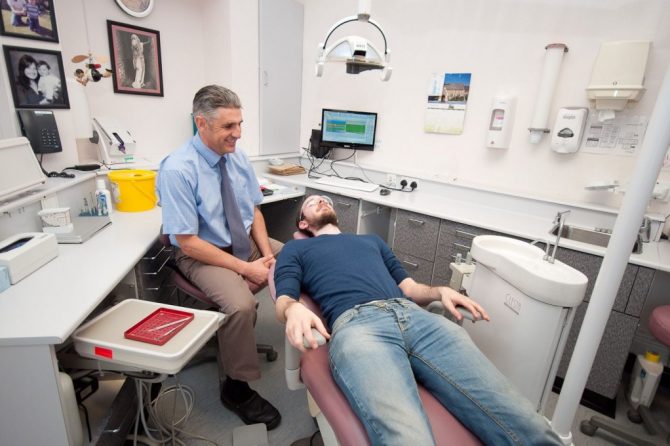 Feeling anxious about visiting a dentist can sometimes prevent you getting dental treatment you might need.
Thousands of people haven't seen a dentist in over 5 years, something we encounter quite often. Dental anxiety can range from a general anxious feeling about seeing the dentist, up to severe panic attacks. This can lead to patients being unable to see their dentist to receive their treatment they need, a common problem in the UK which we call Dental Phobia.
A combination of factors come into play. It's important to talk with your dentist about your anxiety, it is a common problem within dentist and your dental professional would be able to put you at easy with their experience on the subject.
What causes most people to be afraid of the dentist?
There are a wide range of factors influencing a patient's anxiety which include previous negative experiences as a child or adult with a dentist the patient wasn't comfortable with. For some children dental treatment is quite scary, which could cause an emotional impact for the rest of their lives. Some patients might start to panic at the sound of a dentist's drill or at seeing any needles. This is quite difficult to overcome for some people so it is important to find the right dentist to help ease you through the treatment.
Dr Chris Tulacz at Willows has a large amount of experience with dealing with dental phobic patients. He is a gentle and sympathetic dentist who understands the feelings of his patients, who he eases through their dental treatment at their own pace.
"I was in agony for weeks with wisdom tooth pain, I hadn't seen a dentist since I was a teenager but it got to the point where I had couldn't bare the pain anymore. A friend I see recommended Dr Tulacz, I was nervous at first but he really understood how I was feeling and solved my problem that day."
Afraid of the cost of private dentistry?
As a general rule the standard of private dentistry is much greater than that of NHS dentists, usually due to a combination of increased training and experience the dentists possess to enable them to work privately. Private dentists offer a wider choice of treatment options and access to better equipment and materials.
Patients may be fearful of the cost of private dentistry however for example at Willows, private dentistry is actually very affordable. Your routine treatment can be spread monthly with Denplan which starts at £12.53 which includes examinations, x-rays, fillings and scale and polishing.
Procrastination
Many of us are actually quite lazy, especially when it's something we don't want to do. If you do have a dental problem it is best to see a trained professional for their opinion, and not just neglect the problem which can worsen over time.
It's important to get preventative dental treatment to prevent existing problems getting worse. Caries for example, with the correct preventative treatment (fillings) they can be dealt with, where leaving them would make the cavity worse and eventually destroy the tooth.
Talk to us
Willows is a relaxed, friendly and caring environment. If you haven't seen a dentist in a while we would love to show you that it isn't as scary as you think it is. Call us today on or email willowsdentistry@gmail.com for more information or to book an appointment.
Leave a reply